Company Profile
Esther Bloch established LBD Fine Art in 1991 to share her passion for art, educate others about the importance and positive effect of artwork, and help her clients enhance and improve their interior and exterior spaces through art. She graduated from Lake Forest College in 1984 with a degree in Art History. Prior to founding her own art consultancy, Esther managed a successful art gallery and frame shop in River North and designed art programs for corporate, healthcare and residential clients.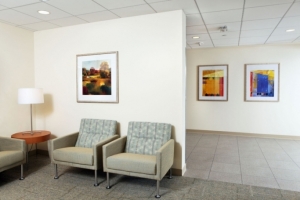 LBD Fine Art brings to every project a strong background in the visual arts and interior design, combined with outstanding communication skills, service and professionalism. Our success is reflected through the longevity of the firm and in the number of productive, ongoing relationships with our clients over many years.
We provide cohesive, visually pleasing art programs that consider the audience, the purpose of the space, interior design, architecture and budgets, as well as the preferences of each client. The healthcare community has, from day one, been our primary focus, but we have also spent many years working with corporate, senior living, design community and residential clients.
Because of LBD's diverse clientele, each project has different requirements. Our extensive experience ensures that determining the direction of the art program, no matter what type of facility we are working in, is a timely and positive experience. The process is efficient and inclusive. We foster a comfortable, communicative working relationship that enhances understanding and instills confidence.
Projects often require working closely, as a team, with many different participants, from the general contactor to architects, interior designers and the end user. We use our knowledge and skills to coordinate and support the many roles involved in completing a project, ensuring that jobs run smoothly and efficiently. In this way, the tools are provided for everyone on the project's team to be successful.
LBD Fine Art also takes great pride in the broad scope of our projects, with budgets ranging from $500 for a handful of reproductions, to $750,000 for a complete art program for a new 14-story hospital building. We have placed artwork in a Chicago Housing Authority senior living facility, where many of the residents have never lived in a space with framed art, and in the lobby of a high end downtown office building. We concentrate on placing the most effective and appropriate piece for each space, and in treating every client with the same level of professionalism and service.
LBD Fine Art maintains relationships with artists, galleries and publishers around the country to offer a nearly unlimited selection of paintings, prints, photography, sculpture and other forms of art. We also study trends and industry research that helps us maximize the benefit of art in any application. The Society for the Arts in Healthcare, of which LBD is a member, publishes studies detailing the most effective art for a healthcare setting, or "healing art," based on particular mediums, images and colors that promote a healthful environment. These are all vital factors to consider when selecting art for a healthcare facility.